The Complete Banff B&B Guide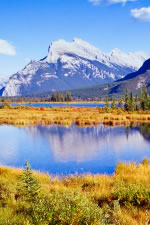 Welcome to the most comprehensive guide to finding a
bed & breakfast in Banff
, Alberta, Canada.
This site is dedicated to helping you find the perfect
Banff bed & breakfast
and we have listed every bed and breakfast in Banff, along with a
detailed map
showing the locations of all
Banff bed and breakfasts
as well as the major tourist attractions in town.
In addition, in the right hand column, we have provided links to all the major online resources for researching Banff B&Bs, as well as useful bed and breakfast websites for other destinations in the area.
We wish you a pleasant trip to the Canadian Rockies!
Featured Banff Bed & Breakfasts
Buffaloberry B&B
Buffaloberry B&B is a high-end b&b in Banff National Park. The four rooms are elegantly appointed in a mountain style, and offer private baths, in-floor heating, internet access, and turn down service. The guest lounge is wonderful, with high... [Read more of this review]

Treetops Banff B&B
This chalet style Banff bed & breakfast offers good value to the Canadian Rockies visitor, by providing a high standard of accommodation in a central location at a reasonable price. Treetops B&B offers a Queen or King room, both with private... [Read more of this review]

Squirrel's Nest Banff B and B
The Squirrel's Nest is a comfortable Banff b & b with a convenient central location, which unlike many Banff bed & breakfasts, is open year round. All rooms have a queen bed and en suite bathroom, and include continental breakfast. The... [Read more of this review]
More Banff B&Bs